Welcome to the Official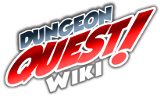 We are currently maintaining 260 pages (25 articles).
Please feel free to contribute by creating new articles or expanding existing ones.
About Dungeon Quest
Dungeon Quest is a deep, truly free to play Action RPG for Android, iOS and Amazon devices! Equip your Wizard, Warrior, or Rogue with infinitely customization weapons and armor to help destroy the elemental evils plaguing the land. There are always new ways to vanquish your foes! Upgrade your gear with our Crystal and Mythstone crafting system. Make your character even more powerful using our Gear-Based Skill and Talent system. Tired of playing alone? Bring your other characters into combat with you to gain experience and loot alongside your hero using our Hireling system. Or maybe you'll come across one of the many endearing companions included in our Pet system!
Features
Three hero classes; unlimited builds
Randomly generated levels and loot
NEW! Battle other heroes in the Arena!
---
To write a new article, just enter the article title in the box below or in the search box at the top of the page.
---
Adding content

If you are unsure of what to do or how to create a page, search for a few articles on the same topic and see what they look like. You can always view the source code in a wiki and learn from what others have done.
An edit doesn't have to be massive; if you feel you don't want to create whole articles, then just fixing spelling errors and broken links is enough.